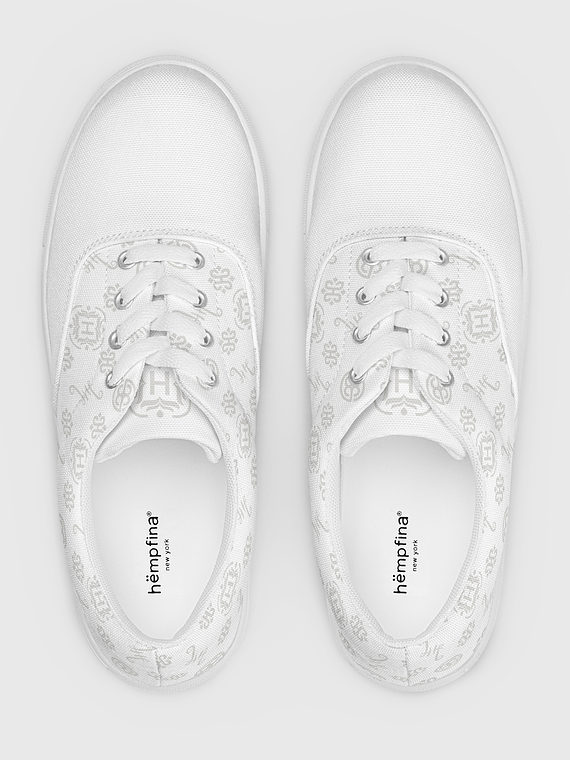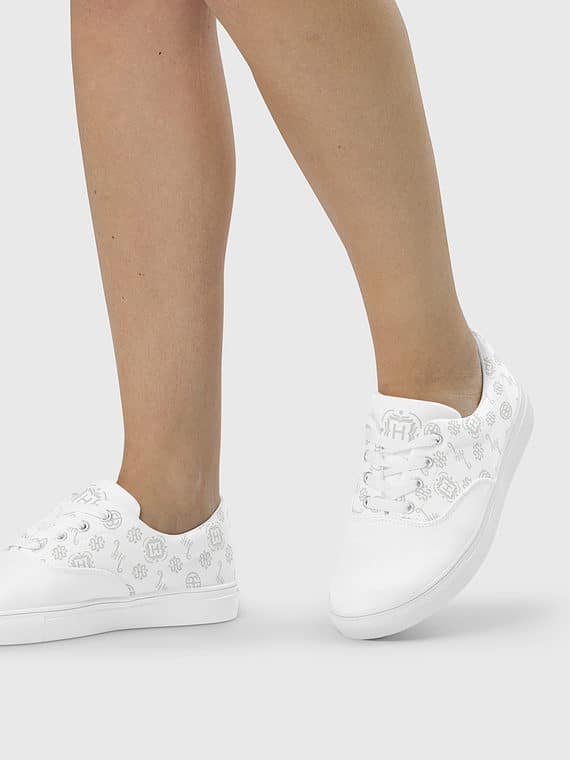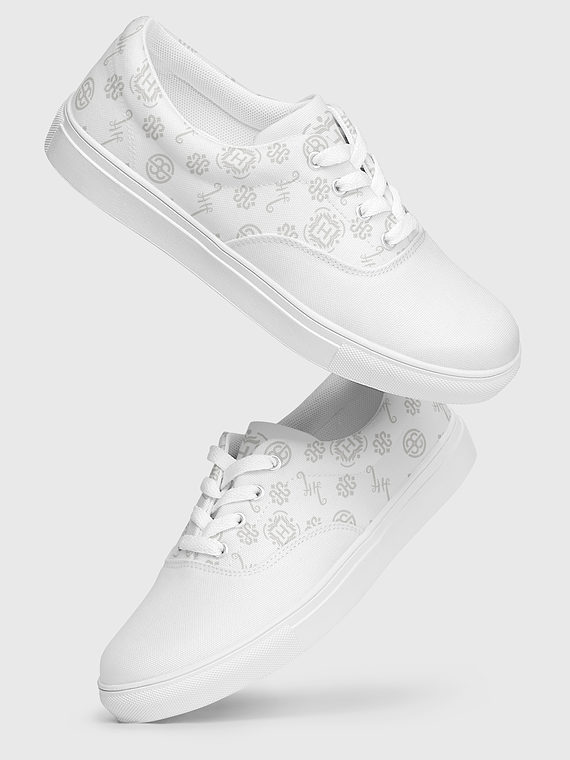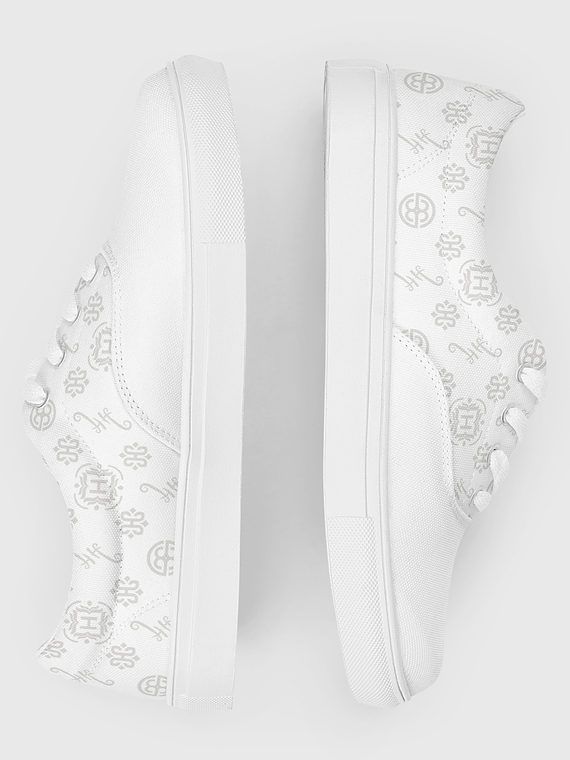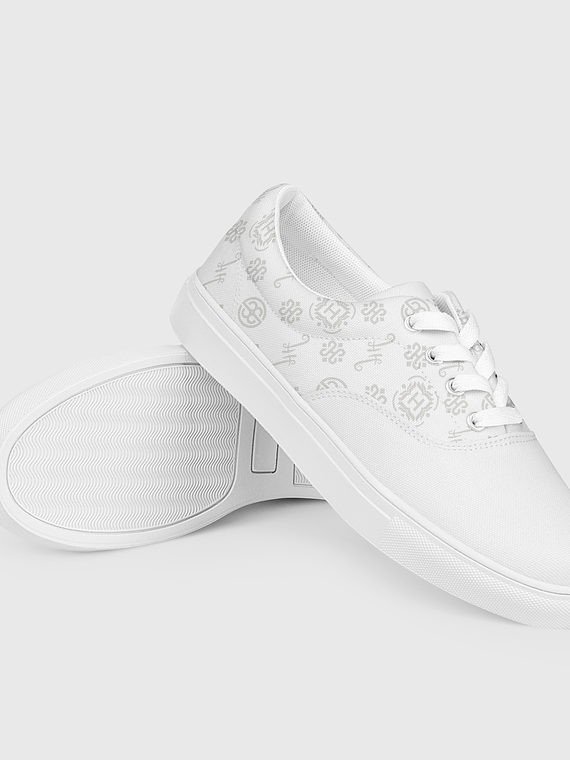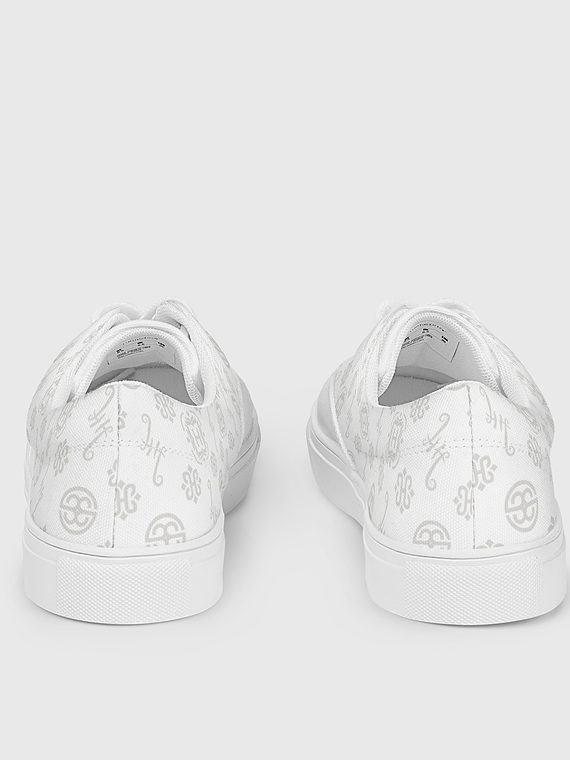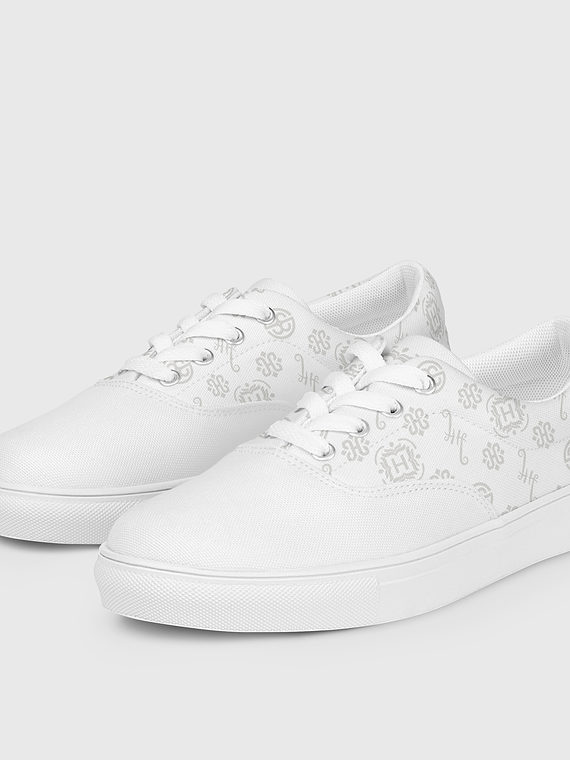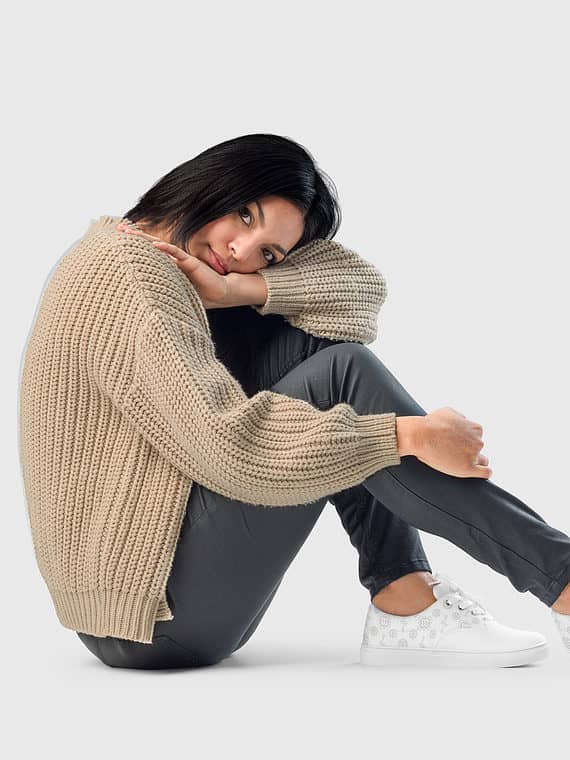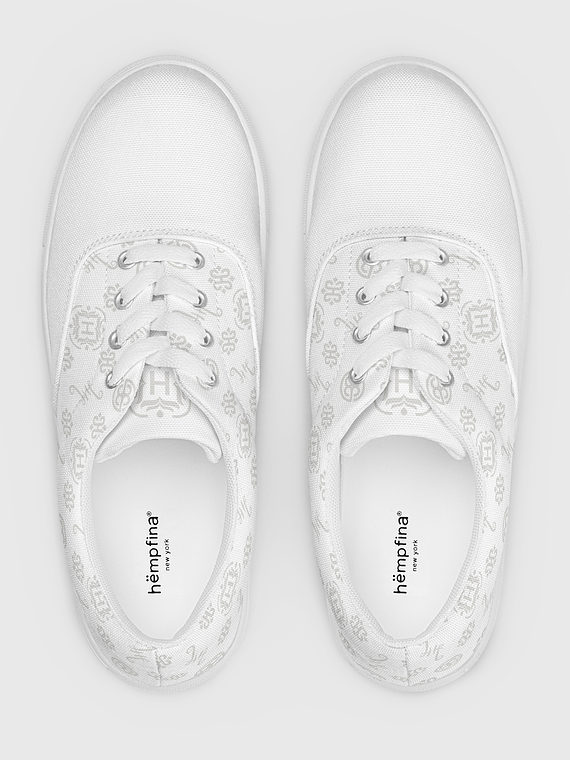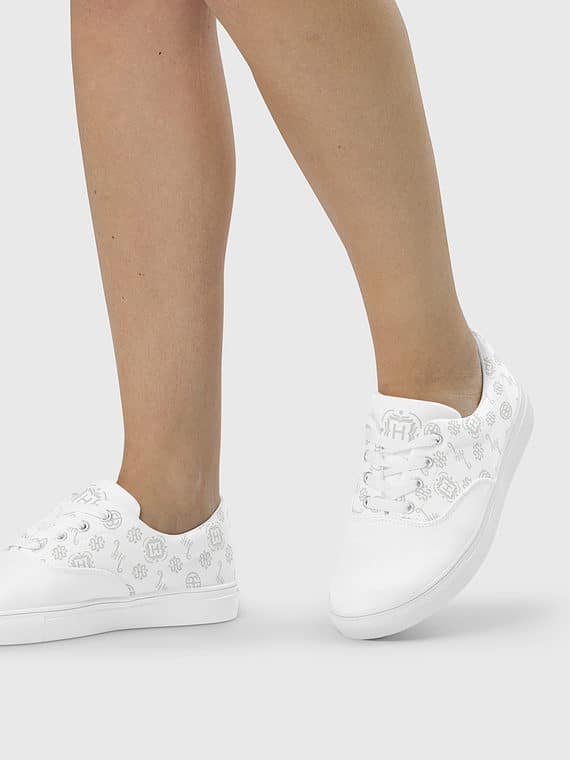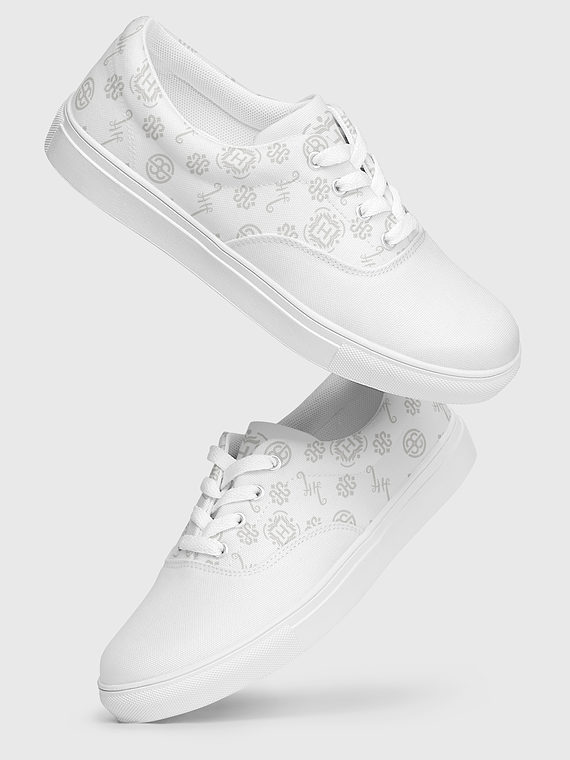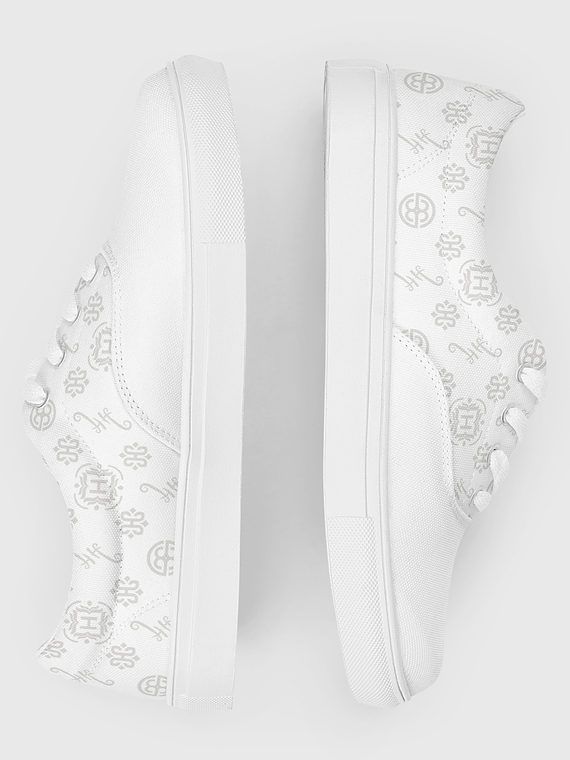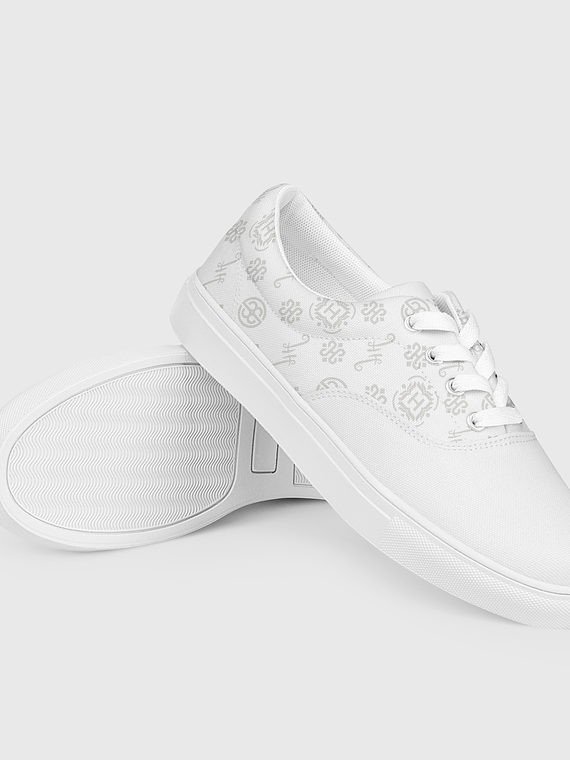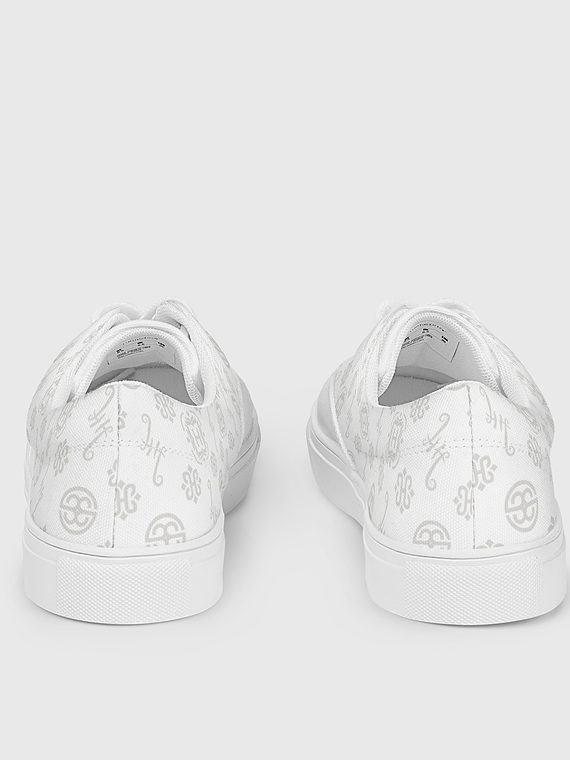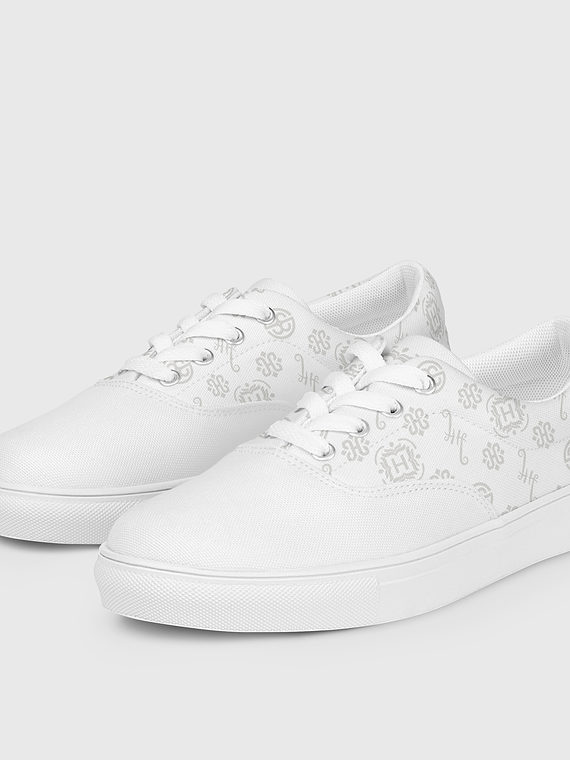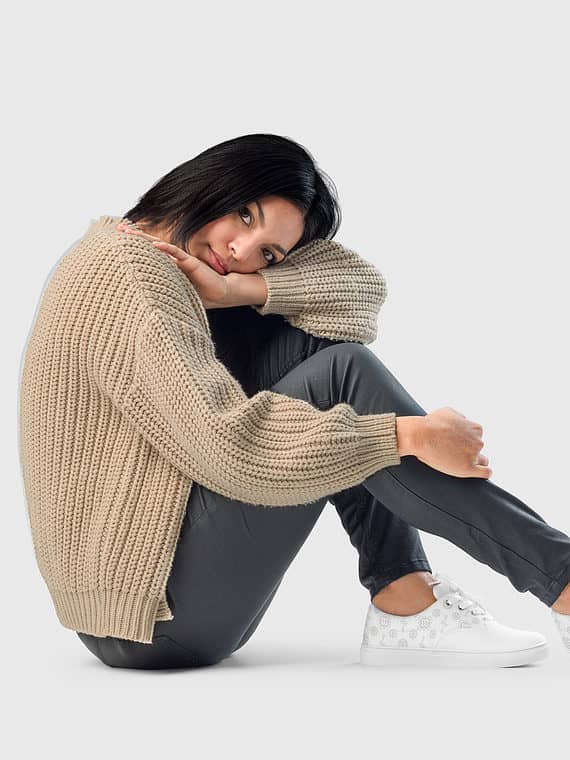 Canvas Lace-Ups Signature Motif – White
2
people are viewing this right now

Guaranteed safe and secure checkout.
Description
No closet is complete without a pair of sneakers. Step up your shoe game with these women's lace-up canvas shoes and rest assured that your outfit will be polished to perfection.
• 100% polyester canvas upper side
• Ethylene-vinyl acetate (EVA) rubber outsole
• Breathable lining
• Padded collar and tongue
• Removable insole
• White laces
Shipping and Returns
Shipping cost is based on weight. Just add products to your cart and use the Shipping Calculator to see the shipping price.
We want you to be 100% satisfied with your purchase. Items can be returned or exchanged within 30 days of delivery.
There are no question found.
Size Chart
Size guide
| | | | | | | | | | | | | | | | |
| --- | --- | --- | --- | --- | --- | --- | --- | --- | --- | --- | --- | --- | --- | --- | --- |
| | 5 | 5.5 | 6 | 6.5 | 7 | 7.5 | 8 | 8.5 | 9 | 9.5 | 10 | 10.5 | 11 | 11.5 | 12 |
| US Women | 5 | 5.5 | 6 | 6.5 | 7 | 7.5 | 8 | 8.5 | 9 | 9.5 | 10 | 10.5 | 11 | 11.5 | 12 |
| UK | 2.5 | 3 | 3.5 | 4 | 4.5 | 5 | 5.5 | 6 | 6.5 | 7 | 7.5 | 8 | 8.5 | 9 | 9.5 |
| Europe | 35.5 | 36 | 36.5 | 37.5 | 38 | 38.5 | 39 | 40 | 40.5 | 41 | 42 | 42.5 | 43 | 44 | 44.5 |
| Foot Length (inches) | 8 ⅝ | 8 ⅞ | 9.00 | 9 ⅛ | 9 ¼ | 9 ½ | 9 ⅝ | 9 ¾ | 10.00 | 10 ⅛ | 10 ¼ | 10 ½ | 10 ⅝ | 10 ¾ | 11.00 |
| Japan | 22 | 22.5 | 23 | 23.5 | 24 | 24.5 | 25 | 25.5 | 26 | 26.5 | 27 | 27.5 | 28 | 28.5 | 29 |
| Outsole Length (inches) | 9 ¾ | 9 ¾ | 9 ¾ | 10.00 | 10.00 | 10 ¼ | 10 ¼ | 10 ⅝ | 10 ¾ | 10 ¾ | 11 ⅛ | 11 ⅜ | 11 ⅜ | 11 ⅝ | 12.00 |
Quick Comparison
Settings
Canvas Lace-Ups Signature Motif - White

remove

Canvas Slip-Ons Crosslink Pattern - White

remove

Canvas High-Tops Lettername Design - White

remove

Canvas Slip-Ons Leopard Print - White

remove

Canvas Slip-Ons Leopard Print - Black

remove

Canvas Lace-Ups Crosslink Pattern - Black

remove

Name
Canvas Lace-Ups Signature Motif - White

remove

Canvas Slip-Ons Crosslink Pattern - White

remove

Canvas High-Tops Lettername Design - White

remove

Canvas Slip-Ons Leopard Print - White

remove

Canvas Slip-Ons Leopard Print - Black

remove

Canvas Lace-Ups Crosslink Pattern - Black

remove

Image
SKU
636076AEC348D
636154D264278
636060697D409
636166AB50ECB
636166378AD64
6360674BEF476
Rating
Price
Stock
Availability
Add to cart
Description
Content
No closet is complete without a pair of sneakers. Step up your shoe game with these women's lace-up canvas shoes and rest assured that your outfit will be polished to perfection. • 100% polyester canvas upper side • Ethylene-vinyl acetate (EVA) rubber outsole • Breathable lining • Padded collar and tongue • Removable insole • White laces
Made for comfort and ease, these Women's Slip-On Canvas Shoes are stylish and the ideal piece for completing an outfit. Equipped with removable soft insoles and rubber outsoles, it's also easy to adjust them for a better fit. • 100% polyester canvas upper side • Ethylene-vinyl acetate (EVA) rubber outsole • Breathable lining, soft insole • Elastic side accents • Padded collar and tongue • Printed, cut, and handmade
Don't forget to treat your feet with care! The classic, stylish high top canvas shoes will be a great addition to your wardrobe. • 100% polyester canvas upper side • Ethylene-vinyl acetate (EVA) rubber outsole • Breathable lining, soft insole • Faux leather toe cap • White laces • Padded collar, lace-up front
Made for comfort and ease, these Women's Slip-On Canvas Shoes are stylish and the ideal piece for completing an outfit. Equipped with removable soft insoles and rubber outsoles, it's also easy to adjust them for a better fit. • 100% polyester canvas upper side • Ethylene-vinyl acetate (EVA) rubber outsole • Breathable lining, soft insole • Elastic side accents • Padded collar and tongue
Made for comfort and ease, these Women's Slip-On Canvas Shoes are stylish and the ideal piece for completing an outfit. Equipped with removable soft insoles and rubber outsoles, it's also easy to adjust them for a better fit. • 100% polyester canvas upper side • Ethylene-vinyl acetate (EVA) rubber outsole • Breathable lining, soft insole • Elastic side accents • Padded collar and tongue
No closet is complete without a pair of sneakers. Step up your shoe game with these women's lace-up canvas shoes and rest assured that your outfit will be polished to perfection. • 100% polyester canvas upper side • Ethylene-vinyl acetate (EVA) rubber outsole • Breathable lining • Padded collar and tongue • Removable insole • White laces
Weight
N/A
N/A
N/A
N/A
N/A
N/A
Dimensions
N/A
N/A
N/A
N/A
N/A
N/A
Additional information
Sold
0
0
0
0
0
0
Shipping